Meet our staff
At Carrick Knowe Pharmacy, the healthcare team is run as a two-pharmacist operation.We have several other key personnel who help with the day-to-day running of the business.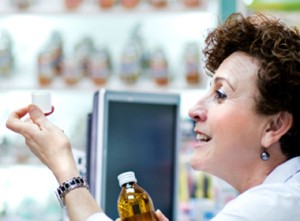 Alan Cameron: Alan studied Pharmacy at Heriot-Watt University and managed to graduate with First Class Honours. Indeed he managed to win the prestigious Watt Club Medal for outstanding students at the University that year. He qualified as a pharmacist after spending his Pre-Registration Year with Boots at St.James Centre. He worked over most of Scotland before joining the previous owner in 1988. He purchased the pharmacy with his wife Caroline in 2002. While Alan remains in ownership of the pharmacy, he has recently taken more of a backseat in the day to day running of the business to care for and spend more time with Caroline.
Ian Richard Pyper: Commonly know to all as Dick. Born and raised in Belfast, a graduate of Queens University, Dick has over twenty years experience working in community pharmacies north and south of the border. Dick was headhunted by Carrick KnowePharmacy to take over the day to day pharmacy management. He is very approachable so feel free to ask any questions that you may have.
Diane Cole: Diane worked in the Customer Services department in Edinburgh with Sainsburys before coming to work at Carrick Knowe Pharmacy. She immediately showed the necessary skills to become a competent Dispensing Technician. Diane managed to study through various courses to achieve her goal and is now on the General Pharmaceutical Council's list of Accredited Dispensing Technicians.
Heather Clarke: Heather joined Carrick Knowe Pharmacy from her teaching support role at Carrick Knowe Primary School. She is our resident expert in home monitored dossette trays. If you have any queries regarding the filing or suitability of these trays, please ask for Heather. Heather also doubles as our driver for local deliveries.
Aisla Beck: Aisla came to us from the Royal Bank of Scotland. She is training to be a pharmacy technician and is developing well into this role.
Julie Hush: Julie is a long standing member of staff who is a Chemist counter specialist. Her lovely nature will put you at ease and her training will help you with any of your requirements.
Carol Aird: Carol joined the day that Carrick Knowe Pharmacy came into being on the 1st November 2002. Apart from being in with the bricks, Carol is a former home help who is used to helping and dealing with others. Carol's claim to fame is that she has twice received 100% in the 'secret shopper' programme ( non-regular customers who rate the service received) which is a mighty fine feat . Carol is our Chemist Counter supervisor and will help you in every way possible.
Robert Hush: Rab is our delivery driver who visits the surgeries to collect prescriptions and to deliver them to your door. He is very approachable and friendly so if you need anything delivered , please just ask us.
Pharmacy Careers
We regularly employ youngsters from the Carrick Knowe , Clermiston, Saughton and Broomhouse areas who are interested in doing Pharmacy either as an occupation or a degree. We currently have three such students currently studying Pharmacy at University who started as Carrick Knowe Pharmacy employees. One girl started as a delivery girl, progressed to Chemist counter assistant, Pharmacy technician before going to University to undertake a degree course. She is currently doing a Ph.d In Pharmacology and we are very proud of her.